Enjoy best the QB hosting services this New Year with HighnessCloud hosting services
HC
Created by HighnessCloud
Monday, January 6, 2020
25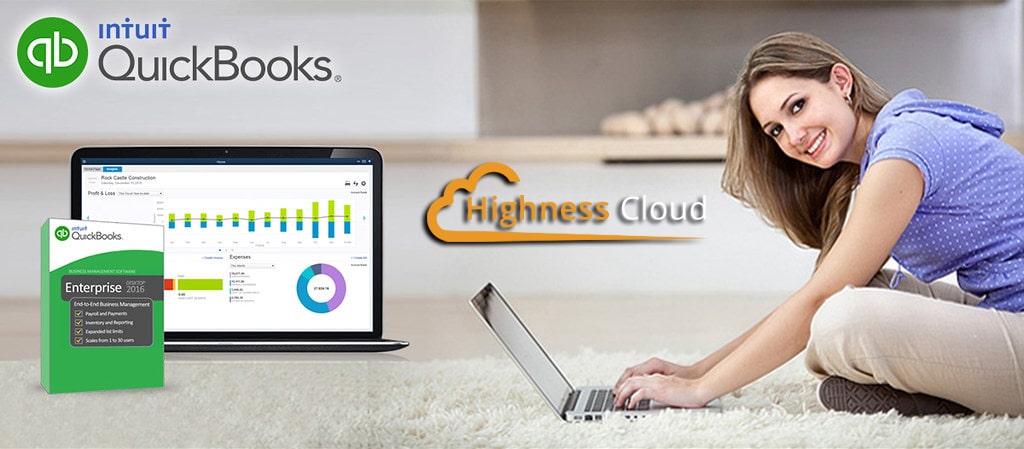 Accounting is surely an important part of any business and that's why you need to dedicate enough time and effort in this important department of your business. Although there are various ways of streamlining accounting in your business but the best approach will be to provide your accountants a robust and powerful accounting solution in the form of QuickBooks hosting. Instead of relying on your age-old accounting solution, it will be better for you if you will shift to the modern QB hosting solution
There are many QuickBooks hosting solution providers in the market and with so many options out there, sometimes it becomes quite difficult to choose the best one. Most of the people don't have much idea about how to choose the best QB hosting solution provider and that's why they end up making a wrong decision. You should know that a bad cloud provider will hamper your experience of cloud and you will never be able to harness the advantages of cloud.
This is why you should choose Highnesscloud without any second thought. We, here at Highnesscloud offer world-class hosting services at affordable price. The best way to start the New Year 2020 will be to gift your business the best accounting solution in the form of QB hosting and by choosing the best cloud vendor in the form of Highnesscloud.
Highnesscloud has been providing cloud hosting services from many years and we have a long list of satisfied customers from all over the globe. From professional CPAs to small businesses, we have served different types of clients and provided cloud hosting services to different industries as well. This is what makes us the best choice for QB hosting as we have the right expertise of dealing with different types of industries, regardless of their size. Highnesscloud is known for its quality cloud services and with our customer-centric approach; we are able to provide 100% customer satisfaction. Let's see some of the advantages of choosing Highnesscloud as your QB cloud vendor.
Stay always available with your accounting solution in the upcoming year
One of the best advantages of choosing Highnesscloud as your cloud partner is your accounting solution will always be available for you from the New Year. You should know that if you will stay dependent on your traditional accounting solution then you will always face downtime due to hardware issues. But there are many businesses who even face downtime even after shifting to the cloud because of the bad cloud infra of the cloud vendor.
But when you will Highnesscloud then you can be sure that the amount of downtime you will face throughout the year will be so low that it will become negligible. We know the importance of continuity in a business and this is why we offer 99.95% of high uptime along with our cloud services. So, if you are working as an accounting firm then you will be able to provide accounting services round the clock and if you are running any other business then you will never be left locked out of your accounting solution.
Make 2020 a completely safe year with ultra-secure cloud platform
2019 has surely been a year of many major cyberattacks as the criminals stepped up their game and have used new and innovative ways to target businesses. But the most noticeable trend in the cyberattack of 2019 is the shift to small and medium sized business. This is why you can't be careless just about the security of your financial just because you are running a small or medium-sized business. There is no denial in the fact that each and every type of data being used by a business is important but the financial data of a company acts as its backbone and that's why it holds so much importance. If you are concerned about the security of your financial data then you should choose Highnesscloud without any second thoughts.
Highnesscloud never compromises with the quality of cloud service and its security. This is the main reason why we use the best security measures in order to provide an ultra secured platform to our clients. From latest and updated anti-virus system to encrypted data, we use all the different ways to keep your data secure on cloud. Even our data centers are highly secure and they are kept under round the clock monitoring.
Don't burn a hole in your pocket in the Next Year
If you are running a small business then your main motive will be to grow your business while looking for different ways to reduce the overall expenses. Most of the small and medium sized businesses area always on budget constraint and if you are also low on budget and don't want to compromise on the quality of your cloud service then Highnesscloud will be the best choice for you. We offer world-class QB hosting services at economical price and that's what sets us apart from rest of the cloud vendors.
We have kept our cloud hosting prices very economical and that's why we are the number one choice for cloud hosting services among each and every kind of small and medium sized businesses. This means that now will not have to break the banks in order to opt for a high quality, ultra-secure and highly available cloud hosting service in the form of QuickBooks hosting.
Highnesscloud is slowly becoming the leader in the QB hosting industry with its customer-centric approach and affordable pricing. Throughout our many years of existence in the industry, we have built a tried and tested approach for providing the best cloud hosting service to our client by keeping the prices minimal. You can easily fill our simple form and get a free trial of our services. Our unmatchable QB hosting services and our effort to skyrocket the growth of our client will surely do wonders for your business.