Understanding the security layers of QuickBooks cloud hosting
HC
Created by HighnessCloud
Monday, November 25, 2019
25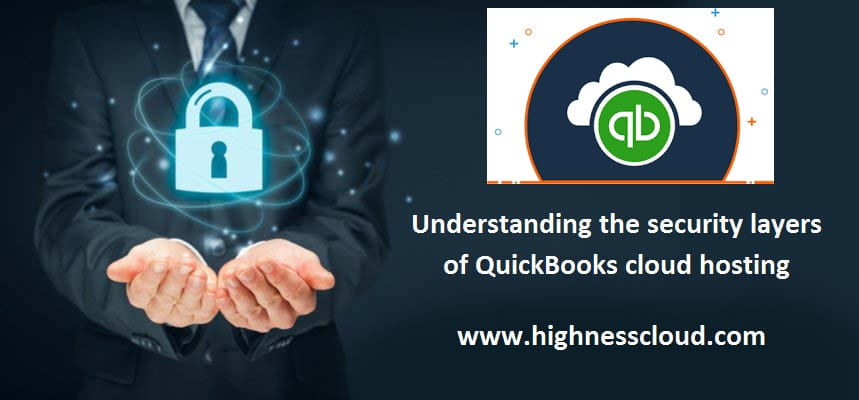 Every business is nowadays very much concerned about the security of their financial data and with the evolution of technology, new security threats are entering into the industry. The technological evolution hasn't only upgraded the security measures adopted by a business for enhancing their security layers but it has also leveled up the tools used by hackers and other evil-minded people to get their hands on the sensitive data of the company.
Although there are many types of data which a business need to keep secure in order to work effectively, one of the most important and sensitive data of any company is its financial data. The financial data of any company holds all the information about the company and losing the safety measures on such data can result in a disaster for the company. But thanks to the advanced QuickBooks cloud hosting solution which allows the users to avail bank-level security for their financial data.
The QuickBooks cloud hosting solution is considered to be the most robust and versatile accounting solution which is used by millions of people all around the world. Although there are numerous benefits offered by this accounting solution but the security offered by this robust accounting solution is one of the main reasons why people are shifting to it. There are multiple security measures which all together make the cloud accounting solution like QuickBooks cloud hosting an ultimate accounting partner for SMEs and professionals. Two-factor authentication, encrypted data, anti-virus system, anti-malware, firewall, all these features make the cloud accounting solution like QuickBooks cloud hosting, an ultra-secure platform.
But there are only handfuls of people who are well-aware about the details of these security measures and in this blog post, we are going to discuss these security measures in detail.
Two-factor authentication
The two-factor authentication system is one of the most highlighted security features of the QuickBooks cloud hosting solution. This advanced security measure adds an extra layer of security on the cloud and makes it almost impossible for hackers to breach into your data. The two-factor authentication is one of the biggest hurdles for hackers because with this security measure, just knowing the user's password and username isn't enough. If you are thinking that the two-factor authentication is new then you are completely wrong as this authentication measure is being used from a very long time.
In the two-factor authentication, the person trying to log in is authenticated through various ways like the most common way to authenticate the user trying to log in is sending a One Time Password on the registered mobile number. This OTP is valid for a particular time period and if it is not entered during the given time, then the OTP expires. So even if someone gets to know your password and username, he/she still will not be able to login into your account as they will not have the OTP.
Encrypted data
Another major obstacle for hackers is the data encryption which comes as an add-on of security layer with your cloud accounting solution like QuickBooks cloud hosting. The data encryption is the simple process of translating your data into another form or code so that it can be read by only those people who have the credentials or authority to login into your cloud accounting system. The encrypted data is known as ciphertext while the unencrypted data is known as plaintext. In the current era, encryption is one of the most successful security measures being adopted by most of the organization as it is very effective.
The only purpose of data encryption is to protect the confidentiality of your sensitive data and make it useless for all those people who try to get their hands on your data without your authorization. The outdated data encryption standards have been now replaced with modern data encryption in order to keep this robust security measures updated and impossible for the hackers to breach in.
There will be hardly any robust organization in today's world that will not be using the data encryption technique. And if you opt for the QuickBooks cloud hosting solution then you get this security layers as an add-on and even if someone gets their hand on your data, they won't be able to read it because it will be in coded form.
Cloud anti-virus
The cloud anti-virus is basically a programmatic solution that offloads the anti-virus workload on a cloud- based server. The advanced cloud anti-virus system does the processing somewhere else on the internet rather than your computer but the function of this cloud anti-virus is similar to the anti-virus which you install on your desktop. There are different types of malware that can attack your data on the cloud and in order to wipe out the chances of becoming a victim of such malware, the anti-virus on the cloud is deployed. These anti-virus systems are very advanced and they are updated on a regular basis in order to deal with the latest types of malware while wiping out the older one as well.
Cloud anti-malware
It is a type of software program that which has been specially designed to keep your data away from malicious programs by detecting them at the first place and then eliminating them. It is one of the most important security layers in QuickBooks cloud hosting solution. This system protects your data from different types of malware like the viruses, rootkits, ransmoware, and spyware. Most of the anti-malware programs use three basic strategies to deal with malware; signature-based malware detection, behavior-based malware detection and sandboxing.
So, all these advanced security layers help the users to stay away from hackers and sleep without worrying about any type of data breach or hacking. Even the most advanced hacking methods won't be able to find a loophole in your QuickBooks cloud hosting solution as it is highly secured and safe. So use QuickBooks hosting solution and stay away from the reach of hackers and other evil-minded people.