Reasons which are restricting you from moving to hosted QuickBooks
HC
Created by HighnessCloud
Friday, December 20, 2019
25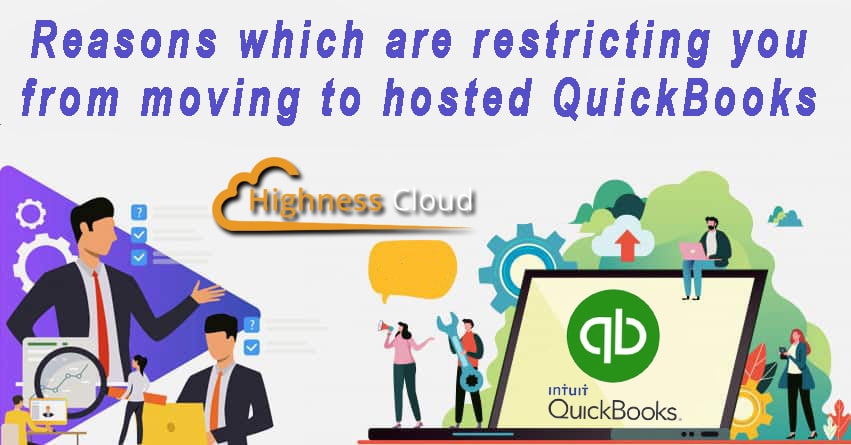 An accounting firm might look like one of the most lucrative businesses but running such a firm is not that easy. You have to be updated with the latest technology, deal with a wide variety of clients, fulfill their unique accounting demands make sure to deploy proper security and much more.
The accounting industry has become much more challenging due to the evolution of the technology which has widened the area of service provided by the firm. Earlier, the service of accounting firm was limited to only books of the clients but nowadays, clients demand much more than just bookkeeping service from their accounting firm. They want their chosen accounting firm to play a big role in decision making and all other major activities of the business.
In such a vast and competitive industry, you need to have the best accounting solution in order to thrive and there is one such solution which can help you to get expected results from your effort; hosted QuickBooks solution.
The hosted QuickBooks solution comes with a cluster of benefits and one of the best things about this solution is even with so many advantages, it can be purchased at a very economical price. From anywhere, anytime accessibility to high uptime, from advanced security to high scalability, from free technical support to seamless working environment, the hosted QuickBooks solution has multiple things to offer you but still there are many people who hesitate in shifting to this miraculous accounting solution and in this blog post, we will be looking at the top reasons which stop people from shifting to the hosted QuickBooks solution.
When you think your local hardware is the safest option for storing data
Accounting firms deal with one of the most important data of any company and that is the financial data. If someone would get his hands on this data then he will be able to know everything related to money and its transaction of the company and that's why while running an accounting firm, one should make sure that he is using the most secure and advanced safety measures in order to provide 360 degree protection to the client's financial data.
There is no doubt in the fact that hosted QuickBooks solution is one of the safest places to store data since it comes with features like two-factor authentication, encrypted data, anti-virus system, firewall, anti-malware, and much more. Along with these security features, the hosted QuickBooks solution also comes with highly secured data centers that are considered to have bank-level security on their premise. Security checks on both physical and virtual level make this data center highly secured.
But even with all these features, many people think that their local hard disk is the safest place to store data since they have been using this process from a very long period of time. But such people should also know that, with the advancement of time, the hackers have also evolved and nowadays, stealing data stored on a local hard disk is like a pie for them. In addition to this, such a storage system is vulnerable to internal threats as well.
When you think that office hour is enough to serve your clients
The advancement of time and the evolution of the technology have widened the demand of the clients and along with efforts in major decision-making processes of the company, clients nowadays can need you at any point of time. Those days are long gone when the working hour of each and every client was same and it matched with your office hours. You can now have clients of wide varieties and they can also have different working hours.
Along with that, if you will have a quick response to your client's demand, regardless of the time, then you will surely have a competitive edge in the market as other competitors will be providing accounting service only during the office hours but you will always be available for them.
The hosted QuickBooks solution gives this competitive edge to the user by allowing them to access their books from anywhere and anytime. So, it doesn't matter whether its midnight, or evening, you will be able to fulfill your client's accounting demands at any point of time while sitting at home, on the go or even while enjoying your vacations.
But there are many people who think that only working during office hours will be enough to run a successful accounting firm but that is what accounting firms used to do a decade ago. Such firms get very limited with their service and because of such perception; they are not able to grow in this tough and competitive industry.
When you think charging more from your clients will work
There is no denial in the fact that running an accounting firm is a costly affair as it requires a big budget. Giving salary to multiple accountants, paying rent, electricity and all other expenses add up to your financial burden but in such situations, many accounting firm thinks that if they will charge their clients more then they will be able to manage these expenses.
But you should know that in addition to the quality of service, and security measures, clients also look for economical pricing and if you will fail in this category of evaluation by the clients, then you will not be able to grow in this competitive industry as with more number of players, the price of accounting service is getting cheaper and cheaper. In such situations, if you will try to manage your own expenses by charging your client more then it will not work.
Opting for hosted QuickBooks solution can be the best option to minimize the expenses as it will reduce the labor cost since most of the operations will get automated and the robust cloud accounting solution in the form of hosted QuickBooks is itself a very economical option.
So, if you are not choosing hosted QuickBooks because of the above mentioned reasons then you are restricting yourself form availing the long list of benefits of the hosted QuickBooks solution. Opt for hosted QuickBooks and streamline your accounting firm's operation.