QuickBooks Pro: Benefits, Cloud Hosting And Hosting Provider
HC
Created by HighnessCloud
Monday, July 30, 2018
25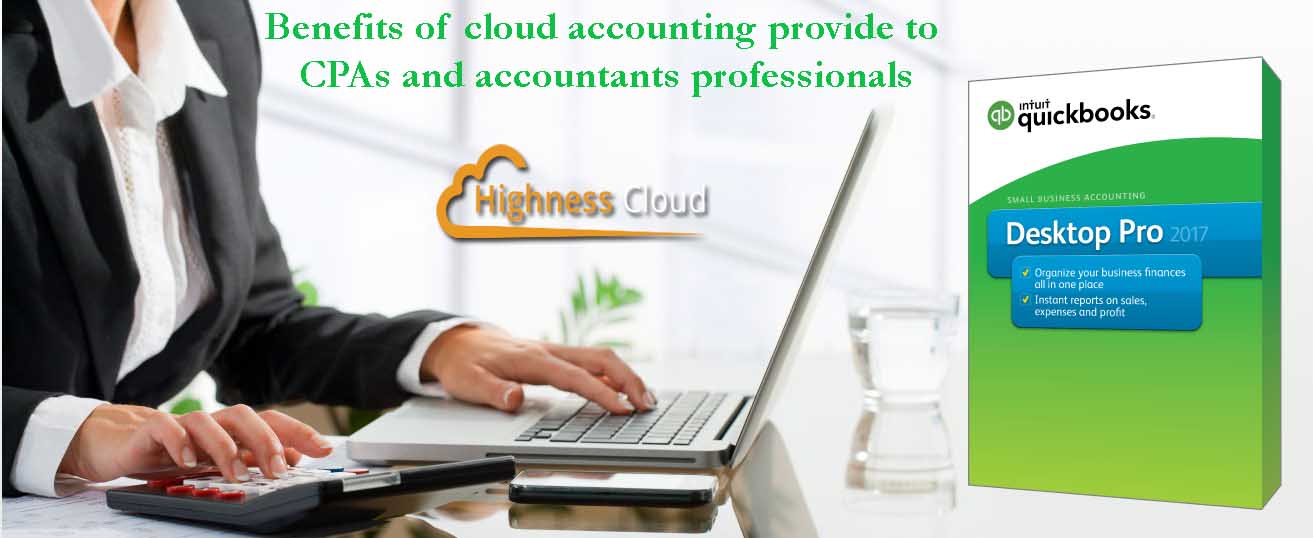 The QuickBooks accounting software from Intuit can help your business to keep track of your finances while getting benefited from the reports and data obtained from it. Intuit has offered different versions of QuickBooks in order to make a perfect match for every type of industry.
QuickBooks Pro is one of the editions of accounting software offered by Intuit which has versatile accounting tools and easy to understand dashboard.
The most powerful accounting software boasts an assortment of features which helps small business to be updated with their accurate accounting operations like accounts payable, account receivable, invoices, inventory, taxes, etc.
The benefits of QuickBooks Pro
Expense tracking
This software offers a plethora of tracking and management tools which helps in maintaining the expenses. By using this software, you can easily track outstanding vendor bill and payments which are completed. You can also print checks directly from the software and that too in bulk quantity.
Tax preparation
You can eliminate the hassle of preparing and collecting documents during the tax season, thanks to a one-click tax report feature. The reports in the tax sections can be easily customized, allowing you to even check the taxable income, sales tax due and other tax-related expenses.
Multi-Management
There are three tabs available in this software; customer, employee, and vendors. These separate tabs help you to manage and organize the data in a better way. Like in the employee section, you can generate paychecks while in the Customer tab, you can easily access the useful customer information.
Income tracking
By using the time tracking tool, you can directly create invoices from the software. You are given the option to set your hourly rate or service during the setup. This reduces the time consumed in invoice creation as the software automatically fetches the data entered.
Cloud hosting with QuickBooks Pro
Managing the software of your business on your own turns out to be very time and money consuming and therefore more and more startups are moving towards the cloud accounting solution. The same goes for your QuickBooks Pro because hosting it on cloud makes yourself free from the back-end operation at a fraction of the cost spent on managing all on your own.
QuickBooks Pro hosting has a wide array of benefits which can manifest in
Anytime, anywhere access
If you wish to work on your company file from anywhere, then QuickBooks Pro hosting is the most convenient and cheapest solution. So instead of worrying about the time zone of your employees, you can easily allow them to work as a team and have the same experience of working under the same roof.
Speed
After using QuickBooks Pro hosting, you will feel the difference between the opening and responsive time of both the hosted version and the desktop version. You can also enhance the number of users on your QuickBooks Pro hosting without going through any performance issues, but make sure that you have a good internet connection and speed.
Customer Support
You might encounter some issues while using the QB like printer setup, permission, email configuration, etc. Such issues can cause a serious problem in the future. QuickBooks Pro hosting eliminates all such problems through the multi-functional team of IT experts who are available at your service, 24/7.
Backup
Have you ever thought that what will happen to your business if your system crashes? The QuickBooks hosting service has redundancies in place in addition to the routine and timely backup which makes sure that everything is going well and protected.
Integration
In order to streamline your accounting operations, you must integrate your QuickBooks Pro hosting solution with industry-specific add-ons. The integration process of add-on with the hosted version is quite easy. So if you are using the software on the cloud, then don't forget to customize it through add-ons.
QuickBooks Pro hosting with HighnessCloud
HighnessCloud is the best QuickBooks Pro hosting company because it offers the safest and the most scalable hosting solution at a pocket-friendly price. With their hosting solution, you will have better hosting experience in comparison to the users who are opting for other hosting providers. These are the benefits of QuickBooks Pro hosting with HighnessCloud.
Superfast
HighnessCloud guarantees 99.95% of high uptime with their QuickBooks Pro hosting service. With redundancy at every level, latest technology, dedicated team and advance data center, HighnessCloud delivers cloud hosting services with lightning fast speed.
24/7 X 365 customer service
Extensive customer care service is what differentiates the cloud hosting service of HighnessCloud with other hosting services. Most of the customers prefer HighnessCloud and have a long term relationship with us because of our highly responsive, well-bred and genuine customer care service.
Business Continuity
When you choose the QuickBooks Pro hosting services from HighnessCloud then you are not only buying a hosting service but you are also buying the safest and most reliable backup solution and business continuity expertise. So the hosting services from HighnessCloud has been made available to deal with all the worst cases like earthquake, system crash, flood, fire and other catastrophic events.
Easy collaboration
QuickBooks Pro hosting from HighnessCloud will make data-sharing, real-time updates real-time editing and all other forms of collaboration a cinch. So collaboration will not be a problem for your business and instead it will later become a very strong point of your form, capitalizing on which, your growth and sales will be boosted.
Managing the finances and accounts of your business through QuickBooks Pro is a smart decision, but hosting the QuickBooks Pro is the smartest decision. The mix of powerful accounting software and the cloud technology delivers a single point for all your accounting problems.
If you are still confused with your choice of hosting provider, then cut the crap and choose HighnessCloud without a second thought. Through HighnessCloud's QuickBooks Pro hosting service, you will always get the service which you wished for.