Use Drake Tax Software Hosting to go Through an Easy Tax Filing
HC
Created by HighnessCloud
Friday, July 27, 2018
25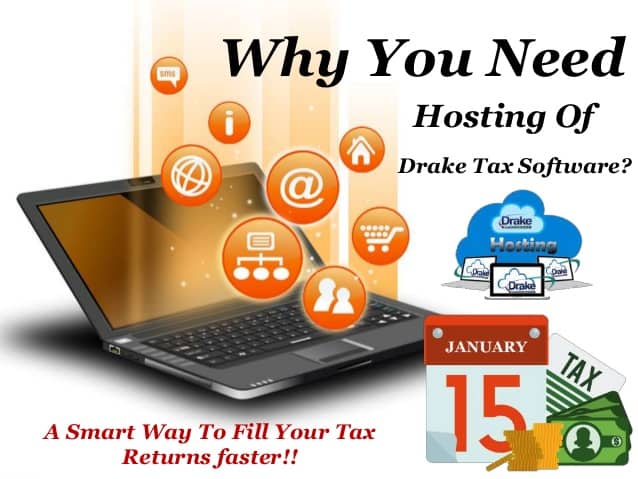 For most of the SMEs, tax season is all about chaos and a long hectic period during which they have to file taxes with accuracy and carefulness. Avoiding fraudulence, looking for tax saving options, going through the new guidelines, checking on the due date, arranging different documents, all these become a headache for SMEs.
But thanks to the accounting software solutions like Drake tax software which makes the life of SMEs much easy. The Drake tax software has been empowered with various features which makes it worth in every way. With Drake tax software, you can file your tax returns in an impressive manner.
Following are the unique features of Drake tax software which makes it unique in the tax software market.
Data Flow
The data flow in this software is automatic which includes federal returns, state returns, and even city returns. It has the feature of auto fill from ZIP code and EIN entries. Moreover, it also has automatic credit for taxes paid to other jurisdiction.
Tax planner
This software also gives you the feature to look at how your marital status, dependents and all other factors can affect your tax filing and saving. You can analyze different scenarios and then change your report.
Year to year tax comparison
The software can compare the data of the previous year with the current year and give you a better analysis. You can access all the data in your worksheet.
E-filing
The Drake software has taken E-filing to a next level and has made it easy and fast. The E-filing feature makes your tax filing process more secure.
But if the advantages of Drake software on your desktop amaze you then you haven't experienced the best; Drake tax software hosting.
The Drake tax software hosting blesses your business with multiple advantages which you would have never even thought of. So let's quickly jump into the long list of advantages offered by the Drake tax software hosting.
Global access
It doesn't matter where your employees are located, they will have access to the software from each and every place on the planet. This acts as a great advantage for small businesses as it furnishes their chances of outsourcing employees, which generally costs less than hiring an employee in their office.
Speed
When you are filing taxes, speed matters a lot and with Drake tax software hosting, you get lightning fast speed to file your taxes as it has very less downtime because of its availability on the powerful cloud network. Interruptions and pauses are what you might miss while using this all in one tax software.
Authenticity
Authenticity is another great feature of this tax software solution. In the hosted platform, only authorized or authenticated person can access your data or login to your software through multiple authentication processes and with the right login credentials. Users also get the power to define the level of access to different users.
Complete access for many users
Regardless of the number of users, the cloud solution will offer you the opportunity to give complete or restricted access to many users. It is a great advantage for SMEs because the outsourcing issues are moved away with this feature of the Drake tax software hosting.
Let's go through the perks offered by Highnesscloud in order to make your cloud experience excellent. Just have internet access, a device and login credentials and your company file will be available right in front of your eyes, without any lag or issues.
Save Money
You can save a lot of money, by choosing our Drake tax software solution because we have set our hosting packages at a very economical rate. By taking in consideration the limited budget of SMEs, we have kept the prices to be easily available. So don't check your budget before choosing our hosting services as it will not become an expensive burden for you.
Offload your IT hassle
IT issues are a big problem as most of the businesses are not good at handling IT solutions and then it results in long delays and piling up of issues.
But Drake tax hosting solution offered by Highnesscloud comes with an in-built, round the clock, customer support service. It comes for free and can prove to be the spine of your IT management. We have a dedicated team of IT experts who are trained to handle issues and answer queries as fast as possible and with the best solution available.
Scalability
Drake tax software hosting with Highnesscloud allows the user to go on with as many changes as they want. With our pay-as-you-go plan, you can scale up or scale down your hosting service at any point of time, without any trouble.
We understand the changing needs of business and therefore we offer scalable hosting solution in order to make the life of clients easier and worry-free.
Data Backup
With our routine, automated and continuous data backup solution, you can live your life worry free and away from the risk of data loss. We follow the best data recovery practices which make sure that you are always safe from different types of disaster. We store your data at different locations to avoid even the worst case scenarios.
Choosing the Drake tax hosting is a smart decision for any small and medium-sized business as it got every feature and tool for making the tax life of SMEs easy and quick.
The Drake tax hosting solution offered by Highnesscloud is the most powerful and flexible hosting service available in the market. You won't get a better deal than the Drake tax hosting solution by Highnesscloud.