Different ways technology has modified the accounting industry
HC
Created by HighnessCloud
Thursday, October 17, 2019
25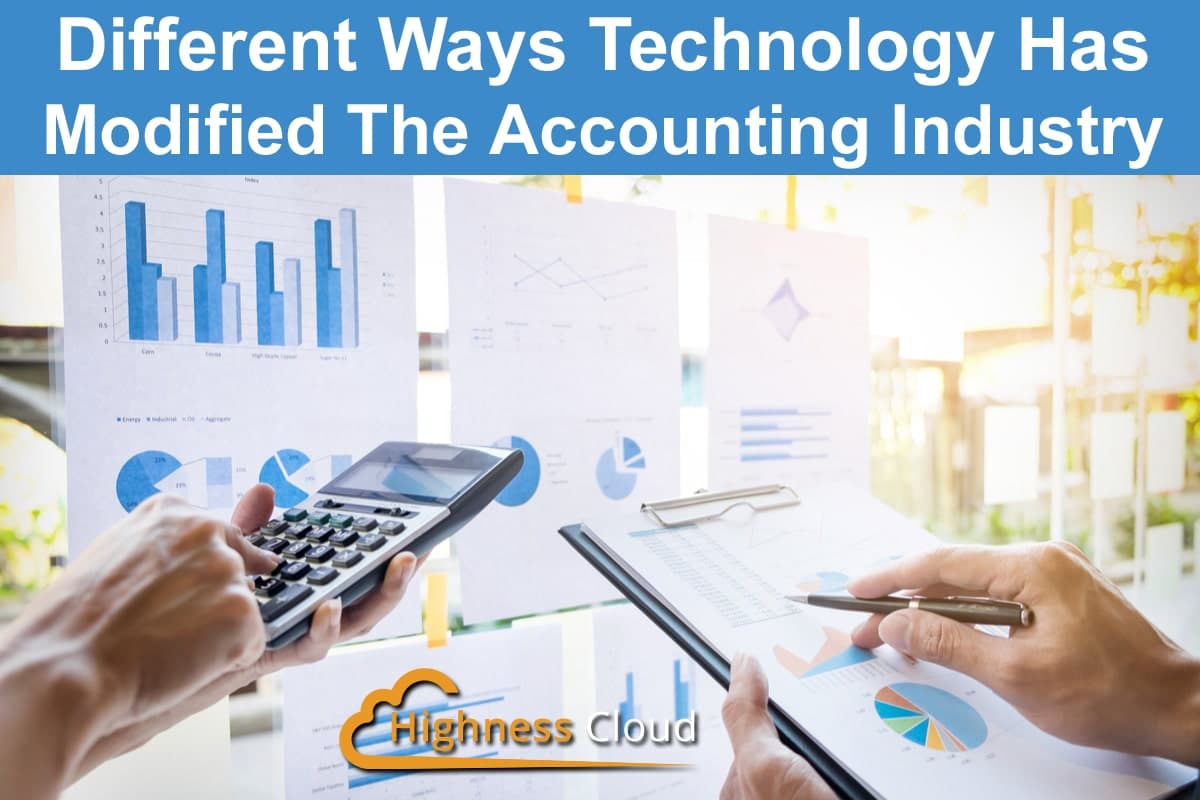 The accounting profession has been rapidly transforming and it is currently going through a vast phase of modification. All the changes that have happened in accounting have helped both the accounting professionals and the accounting to streamline the overall accounting operation. Without these amazing transformations, it would have been almost impossible for the modern day businesses to enhance the productivity of their accounting department with so much ease. But even the current form of technological advancement that we are witnessing in the modern day era will become outdated after the introduction of the new and updated technological innovations.
It is because of the technological advancement that now accountants have been able to come out from their closed cubical and play major role in some of the most important business functions. Earlier, accountants used to be nerdy geeks who were restricted to their small cabin but the modern day accountants are tech-savvy professionals who are working on latest technological advancement and taking part in different decision making processes of a business. And all these changes have been made possible only because of the technological evolution.
In order to understand the role of technology in improving and transforming accounting, you will have to first understand its various applications in the accounting industry. And therefore, we will understand he different ways technology is being used in the accounting industry. At the end of the blog, you will realize how technology has played a major role in the accounting industry.
Artificial intelligence and robotics
Both artificial intelligence and robotics have played a major role in changing in the accounting industry. But all the improvements brought by AI and robotics in the accounting industry is just a glimpse of what's coming next. This is because modern technological marvels like AI are still in the initial stage and it will take such technologies some year to transform into a fully functional technological solution.
With the help of both artificial intelligence and robotics, the accounting industry is automating all the accounting operations which were repetitive, time taking and complex. AI and robotics are also helping in reducing the operational cost while improving accuracy in various types of accounting operations. The ACCA and IMA have mentioned in their latest report that
'Although an agent intelligent enough to replicate the human brain is not yet a reality, there are many examples that can demonstrate limited 'intelligence', depending on how this is defined. Intelligent behavior can include: learning from experience, determining what is important, handling complex situations, understanding visual images, being creative or imaginative, and other characteristics'
This means it doesn't matter how much AI and robotics develops and advances, it will never be able to replace humans completely.
Mobile accounting
You will be dumbfounded to know that there are more than 2.71 billion mobile users all over the globe. This means that almost 31% of the world population is using smartphone. But the influx of smartphone users is not surprising as the mobiles of the current era are truly a panacea. From sending emails to working on PPT, everything can be done on mobile and now even accountants are using mobile on a very large scale.
Most of the accounting software solutions like QB are now being optimized for mobile and this is because accountants are now heavily dependent on their mobile for dealing with their day to day accounting operation. There are many accounting software companies that are helping users with the new age of mobile accounting. Mobile accounting is eliminating the need of carrying heavy laptops everywhere as you can do basic accounting operations on your mobile as well.
But you should know that mobile accounting can different things to different accountants and companies. It is very necessary to narrow down the purpose of mobile accounting before starting to use it. This will allow you to harness the advantages of mobile accounting as you will know what mobile accounting means to your company.
Social media
Social media has become a virtual world in itself and that's why more and more businesses are using social media to interact with customers and target potential customers. In this trend of social media becoming an important tool for businesses, accounting industry is not an exception.
By using social media websites, now accounting firms and even individual accountants are now engaging with their current and potential clients while expanding their brand reach. Nowadays, almost all the popular accounting firms are present on different social media sites and it is acting as a perfect marketing platform for them. But the best thing about social media is that its opportunities are not limited to giant accounting firms only. Social media marketing is a very affordable tool and therefore, even small and medium accounting firms are utilizing this beneficial platform.
Just a decade ago, if anyone would have said that social media will become useful for accounting firms and accountants then he surely would have become a piece of mockery. But we can't deny the fact how social media has changed the accounting and it will continue to do so in the future as well.
Even in the future, accountants will need to embrace the latest technology in order to evolve and remain relevant in the accounting industry. There are many accountants who are not ready to adopt the latest technology as they feel comfortable with what they have doing from many decades. Such type of attitude towards technological advancement can become the main reason for your downfall. So, use the different forms of technology, stay relevant in the industry and always keep an eye on what's coming next.