A Unique Relation Between QuickBooks Hosting And Mobile Accounting
HC
Created by HighnessCloud
Saturday, December 1, 2018
25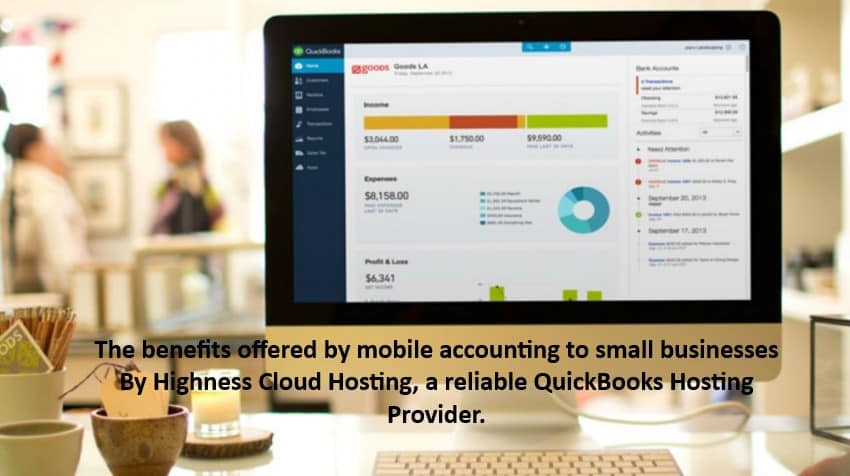 Smartphones have now become paramount in our life and most of the people can't even imagine spending a single day without their smartphones. Those days are long gone, when we used our phones for calling and texting purpose only, as nowadays, smartphones can do most of the work which we do on laptops and desktops.
From storing data on the cloud to making presentations, smartphones of the current era have provided all the necessary functions which you need in today's lifestyle. The smartphones have also changed many industries and accounting is not an exception to this.
The days when everyone used invoices, paper checks, and stamps and envelopes are left far behind because the current technology-driven era has allowed users to integrate technology with accounting.
With cloud becoming a new normal for accountants and SMEs, accounting solutions like QuickBooks hosting have become a new normal. Nowadays, most of the people go for the best QuickBooks hosting provider and opt for the QB on the cloud for managing their accounting operations.
But what's even better is that the cloud solution like the QuickBooks hosting has removed the restriction of location while accessing your books. Now, you can carry on with your accounting operations through your phone in your pocket instead of sitting on your desk, in front of a computer, for the whole day and that is known as mobile accounting.
In layman's language, mobile accounting is the simple process of using the smartphone application over the cloud in order to carry on with your accounting operations. The trend of mobile accounting is growing day by day and with a prediction of growth in the number of mobile users in 2019 (2.5 billion), the mobile accounting solution will become prevalent in the upcoming.
How mobile accounting can streamline your small business?
Although mobile accounting solution can be used for many different purposes, the most common one of them are as follows:-
Time tracking and billable hours
Perform bank reconciliation
Add receipts and submit applications
Create and Send invoices
The following functions are the most used one by the user and it has been found from the study of a recent survey. If a user is able to perform the above-mentioned activities on his mobile phone, then he surely will have a leading edge in his industry as he will be able to access the numerous advantages of the mobile accounting solution while performing important accounting tasks.
What are the benefits offered by mobile accounting to small businesses?
Mobile accounting is a very important and useful solution for the small business of the current era where round the clock accessibility with the added flexibility of any solution is the key to growth.
Here are some of the benefits offered by mobile accounting solution in the form of QuickBooks hosting to small businesses.
Work from wherever you want and whenever you want
Similar to QuickBooks hosting, you can use your mobile accounting solution for accessing your books from anywhere and at any time. Whether you are using the hosted QuickBooks solution on your mobile or using the QuickBooks mobile app, you will be able to get the ultimate feature of global accessibility which will allow you to access your books from anywhere and at any time. Both the mediums of using hosting or app on your mobile can be considered as mobile accounting because the basic function of mobile accounting is to work on your books through a smartphone.
Save money and environment
With the dilemma of a tight budget, small businesses are always very limited while shopping around for any type of business solution and the same goes for accounting solutions.
The mobile accounting fits perfectly into the needs of the small businesses as it doesn't cost much and can be easily afforded. The mobile accounting app or QuickBooks hosting on your mobile, both are quite pocket-friendly and saves you a lot of money on papers, files, stamps and all other things which you needed to carry on with your traditional accounting process.
Along with that, you will be also saving the environment by eliminating the use of paper from your business. This small effort to save the environment will add up to the Go green campaign which is being adopted by most of the small businesses.
Streamline productivity and effectiveness
Whether it is QuickBooks hosting on your mobile or a just a simple QB app, both will help you in streamlining your productivity and effectiveness. For example, if you are always frustrated with recreating the same type of invoices every month then the mobile accounting solution such as QB can help you with that. The robust QB solution allows you to duplicate invoices so that you don't have to recreate them from scratch, every month.
There are other various accounting tools in the software which automates most of your accounting processes and thus your chances of error are minimized to almost zero. Along with 100% accuracy, you are able to save time through automated tools and thus add to your daily productivity.
An integrated system
The mobile app and QuickBooks hosting on your mobile can be integrated with various other business solutions and that is a great benefit because, through such initiatives, you will be able to eliminate many of your manual workload.
For example, you can integrate your mobile accounting solution with your POS system, cloud storage solution, time tracking solution, CRM management solution, etc. The process of integration is quite effortless and even after the integration, you won't witness any lag in your QB solution as the software has been designed in such a way that it becomes compatible with all the applicable integrations while even being on the cloud in the form of QuickBooks hosting.
With mobile accounting becoming a new normal for most of the small businesses, you shouldn't be left behind in this always evolving race of technological competition. If you are able to garner the benefits of the most innovative technology as an early bird, then you will have a competitive advantage in your industry and you will be able to differentiate your accounting solution, from other competitors as well, whether in the form of QB mobile app or QuickBooks hosting.