10 reasons to why Bookkeepers use QuickBooks hosting
HC
Created by HighnessCloud
Friday, August 30, 2019
25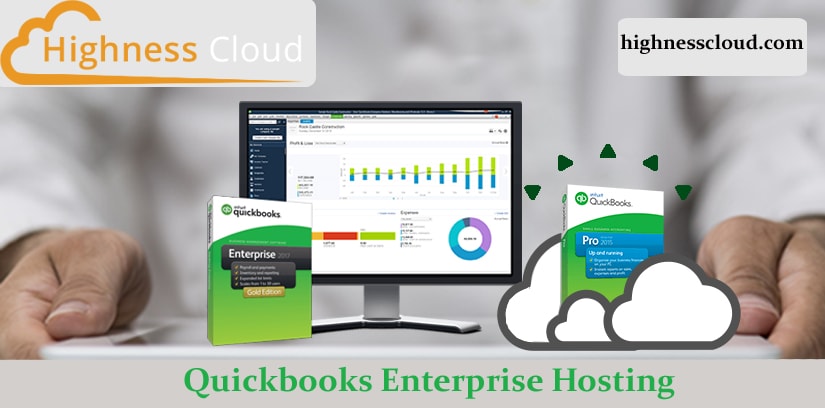 The introduction of cloud computing changed many things in the accounting industry and the same cloud technology gave birth to one of the most revolutionary solutions which is known as cloud accounting. The old method of accounting was getting outdated and there was a need of new technological accounting solution which can help bookkeepers to get rid of their hurdles and the cloud accounting solutions came as a rescue to all those bookkeepers who were looking for a way to streamline their accounting operation.
Bookkeepers are always busy and they have to deal with numbers throughout the day. Fulfilling different client's request while keeping your mind focused so that you don't go wrong with numbers is quite a cumbersome task and thus, the need of robust cloud accounting solution became paramount for bookkeepers, and the QuickBooks hosting solution fit in like a glove in the diverse accounting needs of different bookkeepers.
Now, the majority of bookkeepers use the QuickBooks hosting solution in order to make their accounting operation quick, accurate, secure, effective. With the help of the amazing QuickBooks hosting solution, bookkeepers were able to bring the quality in their service and without putting much effort, they were able to push their level of accounting up a mile. In the US alone, the 80% market share is captured by QuickBooks and since cloud has become a new normal for most of the people. Everyone is shifting from their desktop installed QuickBooks to the technologically advance QuickBooks hosting solution.
In this blog post, we will dig into the 10 reasons to why most of the bookkeeper use QuickBooks hosting for their professional services and how they are summiting new Everest every day with it.
Reduced cost
This is one of the main reasons why bookkeepers use QuickBooks hosting instead of any other accounting solution. Now, more and more bookkeepers are entering into the industry but most of them are very tight on the budget. Therefore, they look for a solution which can easily fit in their budget and the QB on cloud does it perfectly for the bookkeepers.
Pay as you go service
The cloud model in the case of QuickBooks hosting works pay-as-you-go and that's why it is so economical. If a bookkeeper is choosing the QB on cloud solution for his professional services then he will have to pay only for those services which he is using and he will be billed accordingly. So, they don't have to worry about paying for those things which they don't use.
No issues regarding updates
Updates are one of the biggest hurdles for bookkeepers as most of them are not tech-savvy and always looking for updates and doing them on their own becomes a tough task for Bookkeepers. But in the case of the hosted solution, the updates are automated because the hosting provider takes care of it. So, bookkeepers can focus on their work without worrying about updates.
Better control
Bookkeepers need to have better control on their data and other resources on the cloud platform and that's why they should go for hosted QuickBooks solution because in this advanced accounting solution, the admin can easily set permission for each use and they can also keep tracking different users on a real-time basis through multi-user collaboration features. So bookkeepers don't have to worry about the loss of control due to shift on the cloud platform.
Bank-level security
Bookkeepers have very sensitive data with them as they deal with the financial data of their clients. Any loophole in the security of such sensitive data can turn out to be disastrous for the career of bookkeeper but the QB on cloud gives bank-level security to the user as it is intact with multiple layers of security which keep the data away from hackers and other evil-minded people.
Enhanced collaboration
Collaboration is the key to success for bookkeepers as accounting operation can't be carried on effectively without proper collaboration. In such situations, the QB on cloud seems like a perfect solution because it comes with the feature of multi-user access which allows the admin to add multiple people on a project, regardless of the location of the user, the time and device.
Data backup
Similar to updates, the data backup is also a big headache for the bookkeepers because taking care of backup on your own is quite a complex task and it is also time-consuming. In some cases, the data backup can also turn out to be a money-guzzler but in QuickBooks hosting, data backup is taken care by cloud hosting provider and the user doesn't have to worry about it.
Anywhere access
With the power of the cloud accounting service like QuickBooks hosting, the bookkeepers can access their books from anywhere and at anytime. This means that the user doesn't always have to stay in the office in order to complete his accounting operations. He can relax on a beach, enjoy the comfort of home and still can access his books without any trouble and that too with any device.
GoGreen
The cloud accounting solution like QuickBooks hosting also makes bookkeepers a part of the GoGreen project because the cloud accounting solutions almost nullify the use of paper which is not only costly and complex but bad for our environment as well.
Everything on a real-time basis
In addition to all these benefits, everything on the cloud happens on a real-time basis which means that if another user on the QB will make any change, then you will be able to see it on a real-time basis and this is quite a handy feature when it comes to effective productivity and speed.
With so many benefits in such a budget-friendly price, there is no doubt that the QuickBooks hosting solution is the favorite cloud accounting solution for bookkeepers. It contains all the advanced and professional accounting feature which are molded in the technologically advance cover of cloud accounting.