A detailed overview of QuickBooks Premier hosting
HC
Created by HighnessCloud
Friday, August 9, 2019
25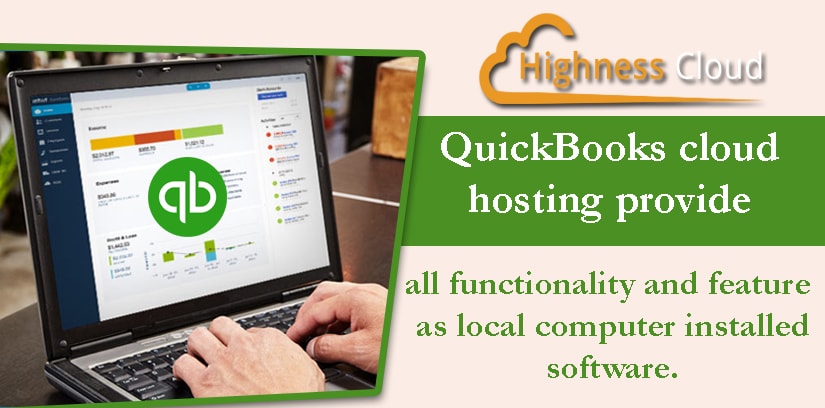 There is a large group of small and medium-sized businesses that prefer the QB Premier solution over any other accounting solution. The level of ease provided by this amazing accounting software can't be matched with any of its competitors.
Intuit started the journey of QB with Quicken which was earlier a personal accounting software targeted for dealing with personal accounting operation but even at that time, the accounting software set a benchmark in the industry and that set the roots for the amazing QuickBooks software which was going to change the accounting industry forever.
Because of the success of Quicken, the QuickBooks became a great hit among SMEs, accountants, bookkeepers, and other accounting professional. Regular update with professional accounting features is what made the QB an accounting leader in the industry but the big change came when the cloud computing entered into the market and it surpasses all the expectations of the accounting software users as it was one of the most revolutionary changes in the accounting industry.
With the introduction of cloud computing in the accounting industry, the cloud accounting became a popular hit and that gave birth to the amazing the most powerful QuickBooks Premier hosting solution. With the help of this amazing accounting solution, people were able to leave their dull and traditional method of accounting and step into the modern world of cloud accounting where everything was technologically advanced. So, in this blog post, we will be taking a detailed overview of the QuickBooks Premier hosting solution and try to understand what made it so popular and powerful at the same time.
A brief explanation of QuickBooks Premier accounting software
The QuickBooks Premier accounting solution is among the various versions of QB. You can say that the QB Premier accounting solution is the middle product and the feature of this amazing accounting software lies between Pro and Enterprise since it has more advanced feature than Pro but less than Enterprise. If a company wants to use accounting software while allowing access to 3-5 people then this is the best choice for them.
There various features of the QB Premier solution which makes it a top seller and we are going to discuss some of them in this blog post.
This amazing accounting software can give you a detailed view of your past orders. So if you want to know which products were invoiced earlier and what's still left to be shipped then you can easily do so.
Along with the sales order fulfillment worksheet and seamless sales order workflow management, you can hold a non-posting sales order transaction until you invoice against it.
This accounting software is a popular choice among contractors because it allows them to create a purchase order from just an estimate. Such a unique feature is not available in the Pro version of the software. So, if you have an estimate of 30 units of products for your particular job, you can easily create a purchase order from just that estimate.
Another unique feature which forces people to upgrade from Pro to premier is the feature of previous reconciliation reporting. And along with that, the user also gets the advantage of reverse journal entry.
What makes QuickBooks Premier hosting so unique and powerful?
When one shits his QB Premier solution from the desktop to the cloud platform by choosing a cloud hosting provider, it becomes QuickBooks Premier hosting solution. Let's dig into the amazing features of this unique accounting solution and try to understand what makes it so popular.
The easy accessibility
The main and the most unique feature of the QuickBooks Premier hosting solution lies in its accessibility. With the power of cloud, you will be able to easily access your books from anywhere and at any time. All the people who use the traditional method of accounting are restricted to their office desktop for accessing their books while in the case of QuickBooks hosting on the cloud, you can be at your home, on a vacation and still have your books just a few clicks away.
Brilliant security system
If a company wants to maintain its pace on the growth path then it needs to do multiple things and protecting the financial data by choosing a highly secured solution is one of those things. Financial data of any company is of uttermost importance and that's why every company should implement the best solution for it. The QuickBooks Premier hosting solution is one such highly secured cloud platform which can always keep your financial data secured and safe without any trouble. The cloud platform is considered to be the most secured technological inventions since millions of dollars are deployed each year on this platform to keep it secure and safe.
Easy on your pocket
Small and Mediums sized businesses can't go on choosing every good business solution in the market because they are always tight on the budget and they have to manage many things in that limited budget. In such situations, the only solution, owners are left with is to make smart decisions and QuickBooks Premier hosting is one such smart decision which is very pocket-friendly. So, you get the best accounting software solution in the market with the power of cloud without burning a hole in your pocket, what could be better than this.
Many people are surrounded by various misconceptions and that's why they don't shift from their desktop installed QB software to the cloud accounting solution like QuickBooks Premier hosting but this blog post must have helped you to know the magical accounting solution and its benefits and it will also allow you to wipe out the chains of misconception which are stopping you from moving to this advanced accounting solution.
The QuickBooks Premier hosting solution is the most admired accounting solution for both professionals and newbies as it offers ease of using while being intact with some really advance accounting features.