A brief introduction to QuickBooks cloud hosting
HC
Created by HighnessCloud
Thursday, February 13, 2020
25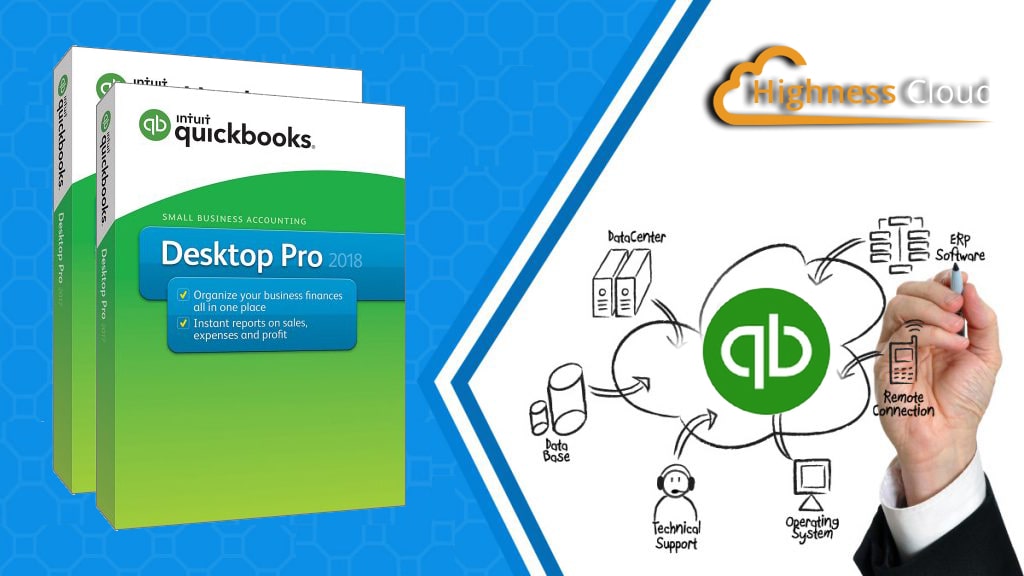 The accounting industry has witnessed the most drastic effect of technological evolution as it has changed their working style completely. From huge piles of paper to the advance cloud accounting solution, accountants have traveled a very long and speedy path of evolution and all this has happened for the betterment of accountant, accounting operation and the people using accounting for one purpose or another.
When we talk about cloud accounting then the one name which is common not only in the accounting industry but also among small and medium-sized businesses is QuickBooks cloud hosting. That day is not far when this amazing solution will become a synonym for cloud accounting. Most of the professional choose the amazing QuickBooks cloud hosting solution because of its advanced feature and most of the newbie choose this powerful accounting solution because of its simple interface and easy to use functions. So whether you planning to enter in the accounting industry or looking to streamline your already established accounting firm, QuickBooks cloud hosting is a perfect fit for each and every purpose. So, let's go through a brief introduction of this amazing accounting solution so that you can get an idea of how powerful and useful this technological marvel is.
What is QuickBooks cloud hosting?
Intuit is a software development company which basically deals in accounting and tax software and QuickBooks is one of its most famous and used accounting software. Earlier, people used to install this amazing accounting software on their desktop and then they used it like any other software but when cloud computing entered into the accounting industry, everything changed.
Now people started shifting QB accounting software from their desktop to the cloud platform through hosting and that form of accounting solution is known as QuickBooks cloud hosting. In simple language, when you host your QuickBooks software on the cloud through a third party hosting provider then you are able to use your QB software on the cloud platform. So, in order to use the hosted software, you don't need to install it on the desktop or any other devices as the QuickBooks on cloud is available from everywhere.
The QuickBooks cloud hosting has multiple benefits and that's why people started shifting from the traditional form of accounting to this modern accounting solution. It is being estimated that soon, everyone will start using QuickBooks on the cloud instead of installing it on their local desktop because it gives them numerous advantages.
How to shift to QuickBooks cloud hosting?
Many people think that shifting to QB cloud hosting is a very complicated process and therefore they avoid it. But in reality, shifting to this powerful accounting solution is very easy. So, let's go through the step by step process of shifting to QB hosting, regardless of your business size and industry.
First of all, you will need to decide what you actually want from the shift. There are multiple benefits of shifting to the cloud like enhanced accounting operation, cost-cutting, easy management of outsourced accountants, etc. So you need to set your goals right so that you can get expected results from this change.
Then, you will have to buy the license of the QuickBooks software but if you are already a QB user then skip this step. There are various versions of QB software available in the market like Pro, Premier, Enterprise and you will have to choose the best one according to your need. There are some hosting providers that even sell the license of the software but it is always a better option to purchase the license on your own.
Then you will have to choose from the long list of QB hosting providers. Different hosting providers have different price and features and therefore, choosing the best one depends on your specific need and requirement.
In the end, you will just have to purchase the hosting package and the hosting provider will take care of the rest. There is no risk of data loss or any other type of inconvenience during the shift as the hosting providers are very professional.
In order to get expected result from your shift to cloud, you need to choose the best hosting provider and for doing so, you need to analyze them on the following parameters:-
Price- One of the most important things to check is their price. QuickBooks cloud hosting is a very economical deal and therefore, if a hosting provider is charging more then you should look for other options.
Customer service- You should always check whether your hosting provider is providing you round the clock customer service or not. You should also ask them about the team of technical support, their response time and all other things related to technical support.
Data center- A data center is the place where all your financial data will be stored and therefore you should ask your hosting provider about the location of the data center and the security measures adopted by them. This will allow you to know how much serious your hosting provider is, regarding the security and safety of your sensitive financial data.
Review- You should also check the online reviews given by original clients of the hosting provider. If you have any doubts regarding fake reviews then you can also contact the people who have posted reviews. It will also help you to know the hosting provider better.
What are the benefits of shifting to QuickBooks cloud hosting?
Following are some of the most highlighted benefits of shifting to the amazing QuickBooks cloud hosting platform:-
Anywhere, anytime accessibility
High uptime
Bank-level security
Economical solution
Cost cutting in long term
Scalable solution
Round the clock customer support
Multi-use accessibility
Real-time access
Add-on compatibility
Similar interface to desktop software
Enhanced collaboration
Better productivity
Better control over data
QuickBooks cloud hosting is a benchmark in the cloud accounting industry and therefore, if you haven't yet tried yet then it's high time to do so.