10 things that make QuickBooks hosting the best accounting solution
HC
Created by HighnessCloud
Monday, July 27, 2020
25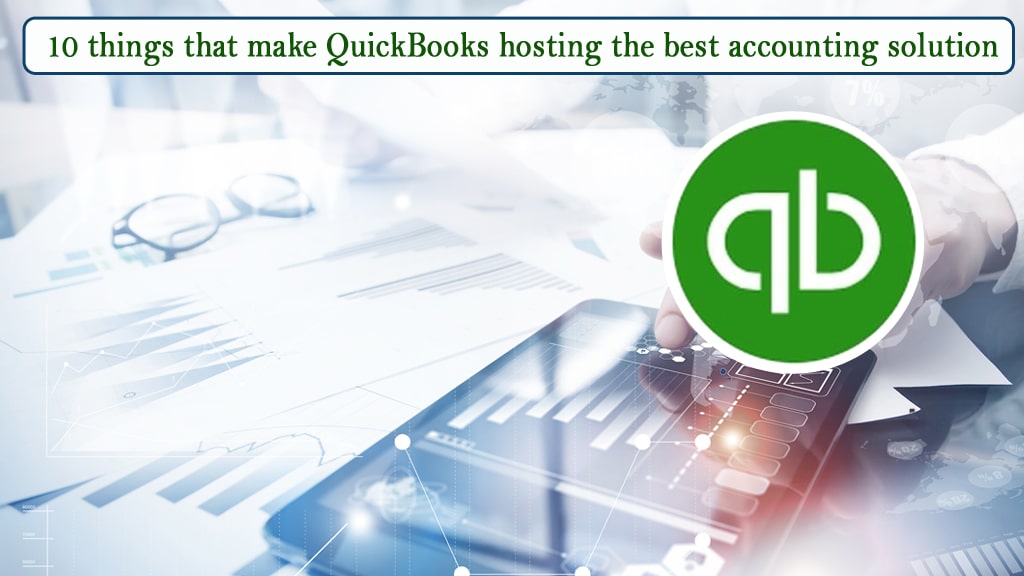 Gone are those days when you just needed pen and paper for most of the part of your business processes. We are currently living in a digital era where each and every part of the business process has been transformed because of the modern-day technological solutions and digitization. You should know that digitization and the use of technological solutions is now not limited to one or two industry domains as technological solutions and digitization have become a part of each and every type of business. Along with this, technological solutions are not more limited to one department of the business as it has become crucial for each and every type of department. And the same applies to account as well.
By the look of things, it is very clear that modern-day accounting has become a completely tech-savvy profession where not using technologically advanced solutions can make things go spiral out of control. Well, this is the main reasons why most of the companies are looking for accounting professionals like CPAs, bookkeepers, and accountants that are well versed in using technological solutions. Well, if you are looking forward to beginning your journey of streamlining your accounting department on the right foot then you will have to begin with shifting to the most advanced accounting solution of the modern era and that is QuickBooks hosting.
There was a time when we witnessed the proliferation of software solutions in the accounting industry and this was because of the influx of technology in most of the business operations. But if you are thinking that you by using desktop installed accounting software, you will be able to make the most of the modern-day technological solutions then reality is far cry from what you think.
The technological solutions keep on evolving at a very fast pace and in order to match your pace with the changing technological landscape, you will have to move at a very fast pace. Well, if you are really looking forward to getting palpable results from your efforts in the accounting department then the best thing that you can do is use cloud accounting in the form of QuickBooks hosting.
QuickBooks hosting basically the cloud-hosted version of the same desktop QB that you have been using for so many years. So, let's look at the 10 things that make hosted QuickBooks the best accounting solution of the modern era.
1. Easy accessibility
If you will be using this advanced cloud accounting solution then you will be able to access your books from anywhere in the world. Since your software will be hosted on the cloud, you will just need a device and your login credentials in order to access your books. So, with cloud accounting, you will always have your books on your fingertips.
2. Bank-level security
Although each and every type of data used by a company is very important, the most important data of a company is financial data. With cloud accounting solutions, you can provide bank-level security to your financial data and even the smartest group of criminals will not be able to get their hands on your data.
3. High uptime
Business continuity matters a lot, especially when it comes to accounting operations. If your accountants will have to deal with interruption on a regular basis then you will never be able to work effectively. But cloud accounting solution acts as a panacea for all your uptime related issues as cloud vendors offer 99.99% of high uptime.
4. No device restriction
If you will be using a cloud accounting solution like QuickBooks hosting then you will not be confined to your desktop or laptop only for accessing your books. You can literally use any device that has internet access in order to access your books and this is what cloud has to offer you.
5. Pocket friendly
Nobody wishes to spend more on any business process and everybody is on the look for reducing their expenses. Well, with a cloud accounting solution like QuickBooks cloud desktop hosting, you can save money as you don't need to install IT infrastructure and you don't even need an IT team as well.
6. Scalability
With the growth of your business, you will have to scale up your business solutions as well in order to match the growing demands. With a cloud accounting solution, scaling up or even scaling down is very easy. Just contact your cloud vendor and they will help you in scaling up or scaling down without any hassle or costly purchases.
7. Flexibility
One important thing to know in the cloud accounting solution is if you will shift to the cloud accounting solution and choose a cloud hosting provider then you will not be bound to any contract. This is why you can switch from one cloud vendor to another without any worries and at any time of the cloud hosting package.
8. Round the clock customer support
You will never wish to deal with the IT issues that may come along with your cloud accounting solution but you don't need to worry as the cloud vendor will offer you round the clock technical support as well. And the best part is you will not have to pay even a single extra penny for this.
9. Multi-user collaboration
If you are looking forward to making your accountants work as a team without even sitting in the same office then a cloud accounting solution can help you. With the power of multi-user access, you can easily add multiple people to the same accounting software and make them work as a team.
10. Lightning-fast service
The cloud servers used by cloud vendors are surely the most updated and latest servers and this is why you will always be able to work on a lightning fast cloud platform that will boost the speed of your accounting operations as well.
As you can see, cloud accounting solution like QuickBooks offers a long list of benefits and this is one of the main reasons why so many businesses are making a paradigm shift and choosing QB hosting instead of installing the software on their desktop.