Why QuickBooks is good for construction firms?
HC
Created by HighnessCloud
Wednesday, July 15, 2020
25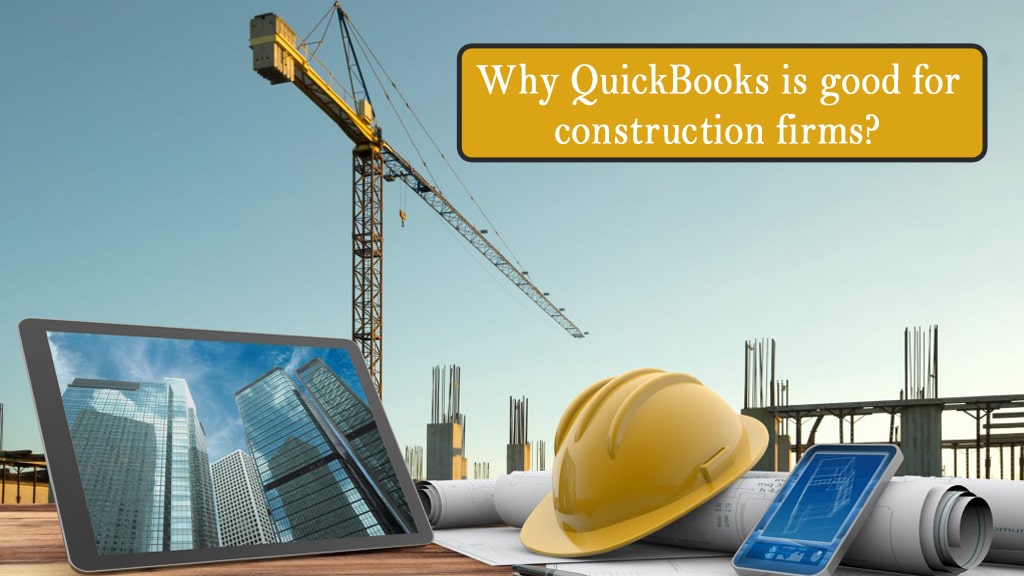 There are many industries that are very challenging but if you will enter the construction industry, only then you will be able to realize how hard and challenging industry can be. But along with the bigger challenges, there come bigger rewards as well. You should know that the construction industry is on a very fast growth track and this is one of the main reasons why we are witnessing a proliferation in the number of construction firms. By the look of things, it is very much clear that the construction industry is going to keep rising in the upcoming years.
But if you want to harness the advantages of the growing construction industry and accentuate your overall construction firm then you will need to take care of your accounting. An impeccable construction firm always begins its journey on the right foot by stepping up to the plate and streamlining its accounting operation. If a construction firm will not be able to take care of its accounting then it will never be able to get expected results from its efforts. And when it comes to accounting software in the construction industry then nothing can beat QuickBooks accounting software.
Instead of being bogged down with dull accounting software solutions that can turn out to be noxious for your business, you should always prefer the most impeccable accounting solution in the form of QuickBooks. There is surely many accounting software out there but not all of them can fulfill your specific accounting needs. You should know that the accounting need of one industry is a far cry from other industry and that's why everyone needs different accounting features. But if you are using QB then you will not have to worry about your construction industry-specific accounting needs as QB has been designed to fulfill the accounting needs of various industries, including the construction firm.
In addition to the standard QuickBooks accounting software that can give you palpable results and can be hosted on the cloud platform as well, you will also get industry-specific versions of the QB, and luckily, there is a construction-specific version of the most powerful and used accounting software as well. So, there are many reasons that make QB useful for the construction but in this blog post, we are going to discuss this topic in a much detailed manner.
Features of QuickBooks that makes it impeccable for construction firms.
Easy management of job cost
One of the best features of QB that makes it a panacea for the construction firm is the easy management of job costs. One of the most important parts of any construction firm is projects and if construction will be able to manage its projects easily then it will surely get palpable results. With the help of QB, one can easily track time and expenses for every project. In addition to this, one can easily run valuable reports and full job cost reports in order to know the current status.
Easy management of contractors
Most of the construction firms are always bogged down with their contractors and this consumes the valuable time of the construction firm. But with the help of QuickBooks, you can get rid of this part of your construction firm as you can stay compliant and save time on all your 1099s. You should know that with QB, sub-contractors can easily add their W-9 and tax ID information. This makes management of contractors a pie for construction firms.
Always be ready for the tax time
Filing taxes is surely one of the most noxious tasks for construction firms as most of the construction firm owners don't want to deal with the complicated tax procedure. But if you are using the advanced and powerful accounting software in the form of QuickBooks then you will not have to worry about filing taxes and going astray while letting things spiral out of control.
With QB, you can easily organize income and expenses into the different tax categories and thus your road to filing taxes will become easier. You can also share your books with your accountants and export important tax relate documents for your tax professional.
Why you should use QuickBooks for your construction firm?
Easy to use
One of the biggest benefits of using QuickBooks for your construction firm will be the ease of use. You should know that most of the construction firm owners are not good at bookkeeping and all other accounting related tasks but and that's why they don't want to be bogged down with complicated software.
But if you choose QB then you will never have to be bogged down with your accounting operations. The accounting features of this powerful accounting software might be advanced but they are very easy to use as well.
Option to shift to cloud
There is no denial in the fact that we are witnessing an influx in the use of QB accounting software because it offers many advantages over all other accounting software solutions. But along with this, there is one more thing that makes this accounting software more pristine and that is its ability to be hosted on the cloud platform.
If you are looking forward to making the most of your accounting software then you can easily shift to the cloud platform and host the accounting software on the cloud. You will just have to use the best cloud vendor out there.
Automated accounting task
In addition not getting bogged down with complicated accounting task, QB will also help you in getting rid of the manual part of the accounting operation because this accounting software is known for bringing automation in the accounting department and this might be the main reason why so many construction firms choose QB without any second thoughts.
So, if you are running a construction firm and looking forward to getting palpable results then you can begin on the right foot by choosing QuickBooks accounting software. This advanced accounting software will offer you many advantages and that's why it is so famous in the construction industry.