The Top 8 Unavoidable Perks Of Hosted QuickBooks
HC
Created by HighnessCloud
Monday, November 5, 2018
25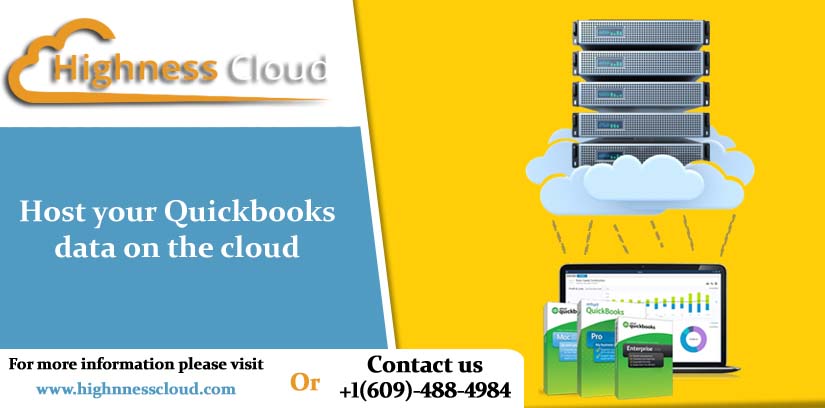 The QuickBooks accounting software is intact with many benefits that's makes it a better accounting software than any other options. The major advantages which user gets through QuickBooks are easy and detailed reporting, enhanced usability, simplified bookkeeping interface and availability of features like sending direct journal entry to clients through the program.
There are also various versions of the software like Pro, Premier, Enterprise, and Accountant. According to the business size and industry module, the users can easily choose the required version of the software and get benefited through it.
But even such robust accounting software with so many accounting tools gets limited when used on the desktop. This is the main reason why instead of installing the QB software on the desktop and then getting restricted by the limitation, the majority of people prefer to go with the hosted QuickBooks solution.
It gives them a fully functional QB desktop on the cloud so their user-friendliness is not compromised and still they are able to get benefited through the cloud. With cloud computing solution such as the hosted QuickBooks in the business, the owners can use the modern techniques of accounting while streamlining their business functions. Let's understand the benefits of hosted QuickBooks in detail.
1. Access at your ease
With the magic of hosted QuickBooks, your data and your QB software is stored on the cloud and you are able to access it from anywhere and at any time, regardless of the device which you are using for accessing the software. You can use your laptop, office desktop, mobile, tablet for accessing your books.
And don't think that with the power of the global accessibility you loose on the speed as the cloud offers lightning fast speed and everything happens in real time for other users whether it is any edition or addition.
2. Secure connection
The hosted QuickBooks gives you the most secured access which you can have in the current era. All the data on the cloud is encrypted, in order to access your files, you will need two-factor authentication, all the latest viruses are eliminated through the anti-virus and anti-malware system and with regular monitoring of the server through your hosting provider, it's become quite difficult for getting access to your data on the cloud.
3. Reduced cost
When you are going to choose the hosted QuickBooks then you will not need to install it on your desktop and there is also no any requirement to run it on terminal services. This acts as a cost-saving factor for you, but this is not it as in order to access the power of the cloud, you don't even need to build an infrastructure or manage your IT by hiring a team of IT experts. All this adds up to your savings and you can use your valuable business resource in some other important business functions.
4. Work on the same data at the same time
With traditional accounting, you have to deal with the cumbersome process of sending data back and forth. While being a complex process, such a system increases your chances of errors and consumes a lot of your valuable time. But that is not the case with hosted QuickBooks as with its multi-user feature, you can work on the same file at the same time with other users while still having the full control of the data. Such system enhances your collaboration and makes managing outsourced employees very easy.
5. Hassle-free management and maintenance
The burden on CPAs and accountants increases a lot during the tax season and in order to save time during such a busy schedule, everyone needs smart solutions like hosted QuickBooks. The hosting services with a reliable hosting provider give you the opportunity to be the best on your work while still being able to save the valuable time, which was earlier wasted in the management and maintenance of your IT solutions.
6. Always available customer support
By choosing a hosted QuickBooks, you are choosing much more than just a cloud hosting service as you also choose a team, which supports you and solves your IT problems in every situation. If you will choose the hosting service through a popular and reliable hosting provider, then you will surely get round the clock customer support with it for free. So you will not have to pay any extra money and still you will be getting your problems and issues solved through an expert.
7. Regular backup
Maintaining regular backup is not only a time-consuming process, but it is also a very complex process with increased risk. First, you have to make copies of your data and then send it to the backup location. Anything can happen to your manually created backups during the process of sending it to the backup locations. But that is not the issue in hosted QuickBooks as the backups are automatically created by your hosting provider without any extra cost. It also helps you in dealing with disasters which maximizes your chances of complete data loss, but not with hosted services backup system.
8. High uptime
Downtime makes business owners shiver in sweat because it acts as a big back draw for them. Instead of being ahead in the race of competition, the small businesses along with the accountants are left behind due to regular downtime problems. While if a business or accountants choose hosted QuickBooks, then they get 99.99% of high time which ensures that the user doesn't get more than few of hours of downtime for the whole year. Such an advantage is quite necessary to have an upper hand in the market and make solid survival tactics.
So, if you want have an upper hand in the industry without pouring too much of money in your business solutions then you can go for the hosted QuickBooks solution as it offers you both sides of benefits which are being economical and providing your maximum benefits.