Why Migrating To QuickBooks Premier Hosting Is A Good Option?
HC
Created by HighnessCloud
Thursday, September 13, 2018
25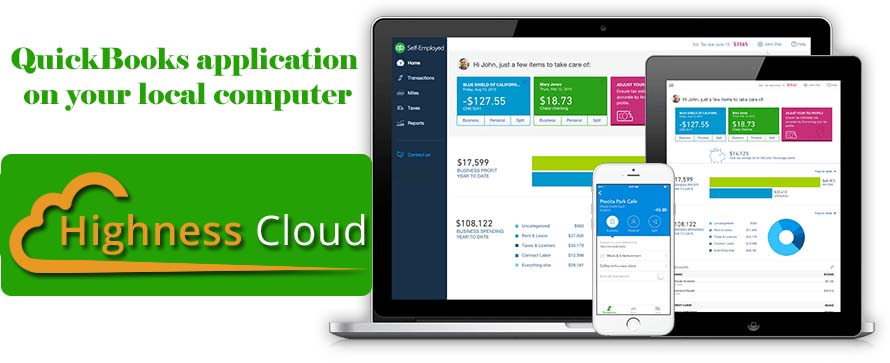 Among the various technologies which are available to the accountants, the cloud computing technology has been the most beneficial one. There are several implications of the cloud computing technology and some of them have now become a new normal for accountants and bookkeepers.
For example, the cloud storage has proved to be a plus point for accountants as their data is much safe and secure now. But the best implementation of the cloud computing technology, which is used by most of the accountants is the cloud hosting.
In the case of accountants, the cloud hosting is an accounting solution under which the users host their accounting software on the third party servers of the cloud hosting provider. There are several cloud compatible accounting software solutions in the market which can be used for both professional and personal use, but the best one of them is QuickBooks Premier hosting.
The QB Premier is one of the editions of the QuickBooks accounting software which is perfect for small and medium-sized businesses. It has very easy to use accounting tools and can perform all your accounting operations without any hassle.
But in order to enhance the working of the software, you will need to host in on the cloud as cloud accounting offers many benefits to the users and it is economical as well. You just have to choose a good hosting provider (it doesn't matter whether it is Intuit Authorized or not as the services of both types of cloud provider is same and the main difference lies in the pricing where the authorized users charge $5 extra for being an authorized company. This is also known as Intuit surcharge).
So let's discuss the reasons for why you shouldn't miss on the benefits of QuickBooks Premier hosting.
Worldwide accessibility
The main advantage of the QuickBooks Premier hosting is that you get global accessibility through it. All those people who use this accounting software on their desktop are restricted to returning to their office in order to use the software, but that is not the case with the cloud-hosted QB as you get to access the software from anytime and from anywhere. This is a great advantage of the cloud-hosted QB as it helps you to provide a better service and work more on your files.
No device restriction
In this modern era, computer is not the only device which allows you to get your hands on the technology, but there are multiple portable devices which people use to do all their computer works.
You must be wishing to use the QuickBooks Premier hosting from your mobile phone and tablet and the best news for you is that it is really possible. You don't have any restriction on the device which you use for accessing the software as it just needs an active internet connection.
World-class safety
As a businessman or accountant, you should be always worried about your data and keep it in an ultra-secure zone. You might be thinking that your hard disk is the ultra-secure zone for you but that's not true.
Hacking someone's data from the hard disk has become a facile thing for hackers and therefore you should use the QuickBooks Premier hosting solution for having a bank-level security of your financial data. There are multiple layers of security implemented on the cloud platform and that's why it is still considered the safest place to store all your important data.
No Data loss
Catastrophes don't come with a warning sign and therefore they are unavoidable. But you can be prepared for the consequences caused by disasters. One way of following this ideal practice is to choose QuickBooks Premier hosting for your business because it offers regular backup for all your important files and folders.
The hosting provider gives you regular backup facility so that you don't have to worry about creating the complex and time taking backups and then sending it to storage sites. This can act as your best disaster recovery plan and can also help you to overcome obstacles in your business.
Pocket-friendly prices
Pricing of a solution is one of the major issues for small accountants as there is a limit on their affordability. But you can shop for the QuickBooks Premier hosting even with a tight budget as the pricing of the cloud accounting solution is quite pocket-friendly.
Purchasing the license of QB and then hosting it on the cloud will not prove to be a disaster on your financial plans. Even startups can manage to choose this useful accounting solution and use it for making their accounting operation more accurate and effective.
Matches with your growth
The market can never be stable, whether it is for small business or accountants and in this swinging market, you have to match it to your accounting solution in order to match the pace. The accounting solution which you choose at the starting of your business may not be able to fulfill your accounting demands after 1 year. In such cases, you will have to switch to another solution, but that is not the case with QuickBooks Premier hosting solution as you can scale up and scale down your accounting needs according to your current business demand. There is no involvement of any type of contract in your purchase of the cloud package, so if you don't feel right with your current hosting provider then you can easily switch them.
The most advanced technology
Using the latest technological innovations is the right way to conquer your dreams and that's why you need to embrace the cloud accounting solutions like QuickBooks cloud accounting solutions. Such solutions give you the overall control over your accounting procedures and with such advance system, you will always be ahead of time and your competitors as well.
QuickBooks Premier accounting solution is the most preferred accounting solution in the market and it's because of the benefits which this advance accounting solution offers.