Use these e-commerce platforms with your QB desktop solution
HC
Created by HighnessCloud
Friday, August 27, 2021
25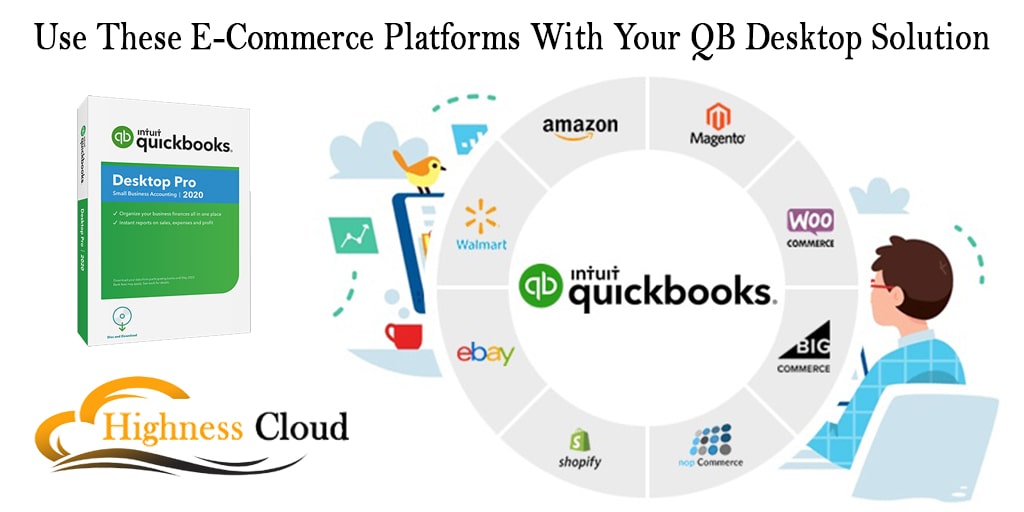 You must have seen how the modern-day businesses have shifted from just setting up a store and then selling through that store to the online platform. Now, most of the businesses out there are looking for a way to sell their products or services online and this has become compulsory for all the businesses out there. It doesn't matter how small or big your business is and it doesn't matter in which sector of business you are, you will have to make sure that you are building up strategies and plans to sell products online.
But the way businesses sell products or services online has also been changed a lot since its inception and the credit for all these changes goes to technological advancement. You must be aware of the fact that anyone from anywhere in the world can easily buy any of your products or services just with the help of one click. The ease of shopping from home has fueled the growth of online selling and this is the main reason why selling products or services online is no more a luxury for businesses, rather it has become a compulsion.
In addition to ease of buying products, small and medium-sized businesses are also able to wipe out the need of maintaining a huge inventory if they will shift to the online platform and this is another major advantage that has promoted the growth of online selling. The online selling approach is a win-win for both customers and businesses and in the upcoming future, we will only see the rise of this type of approach of shopping. From a needle to a bride, everything is now available online.
But if you are running an e-commerce business then you will need to make sure that the accounting software you are working with is fully compatible with the e-commerce platforms that you are using in your business. This is necessary because you will never wish to manually enter everything in your accounting software solution as it will not only consume more time but it will also increase the chances of errors as well. There are so many huge numbers of transactions that doing everything manually will become a burden for you.
This is why, in this blog post, we have brought to you some of the best e-commerce platforms that you can easily integrate with your accounting software in the form of QuickBooks hosting.
Shopify
One of the main things that you should know here is both Shopify and hosted cloud QuickBooks are different applications. On one side, QB hosting is a completely different accounting software solution while on the other side, Shopify is an e-commerce platform. But one of the best things about these two applications is when you will integrate both the applications then you will feel like you are using only one application. This is one of the most important reasons why people feel that one should always use QuickBooks by integrating with Shopify if you are running an e-commerce firm.
You should know that when you will start using Shopify, you will get the power of an in-built payment gateway and since a smooth payment system allows a firm to build a strong customer base, you will get the same result in your firm as well. You can also set up online stores and even build a strong brand just by using social media engagement.
WooCommerce
There are many reasons why you should never hesitate from integrating this powerful software solution with your QB accounting solution. If you are using a website that is based on WordPress then you can easily set up your online store with the help of this advanced platform. Since it is a completely open-source platform, you will have complete control over it. By adding a wide range of extensions, you will be able to easily customize the platform according to the needs of your business. This is one of the main reasons why so many people are ready to use this advantageous platform without any second thoughts.
Making the payment is also a very important part of any e-commerce business and WooCommerce will offer you a completely safe payment gateway so that all your customers can easily make an online payment for their orders. And since this platform will be integrated with your accounting software in the form of QuickBooks hosting, all the data will be automatically fed.
Volusion
If you are planning to opt for something that doesn't require any type of coding then opting for Volusion will be the best choice for you. This advanced platform will offer you an easy site builder function along with very easy to use and simple themes that you can use in order to build your online store in just a couple of minutes. You should know that if you will choose Volusion then you will also be able to enhance the selling experience with SEO tools, proper inventory management, and safe payment methods.
This is basically an all-inclusive platform that comes along with a wide array of built-in features that are very much necessary for running a web store successfully. There are also many unique features that you will get along with Volusion and these are the feature that sets the advanced platform apart from all the other competitors in the same category.
If you are running an e-commerce platform then you will surely have to deal with many complications along with high competition since the e-commerce industry is growing at a very fast pace. But by choosing the right solution and making sure that you are offering the best products, you can make your e-commerce platform successful. So, use the above-mentioned platforms along with your QuickBooks accounting solution in order to ease the overall process and reduce the manual workload which doesn't only make you slow but increases the chances of errors as well.