The dos and don'ts of hosted QuickBooks solution
HC
Created by HighnessCloud
Sunday, September 15, 2019
25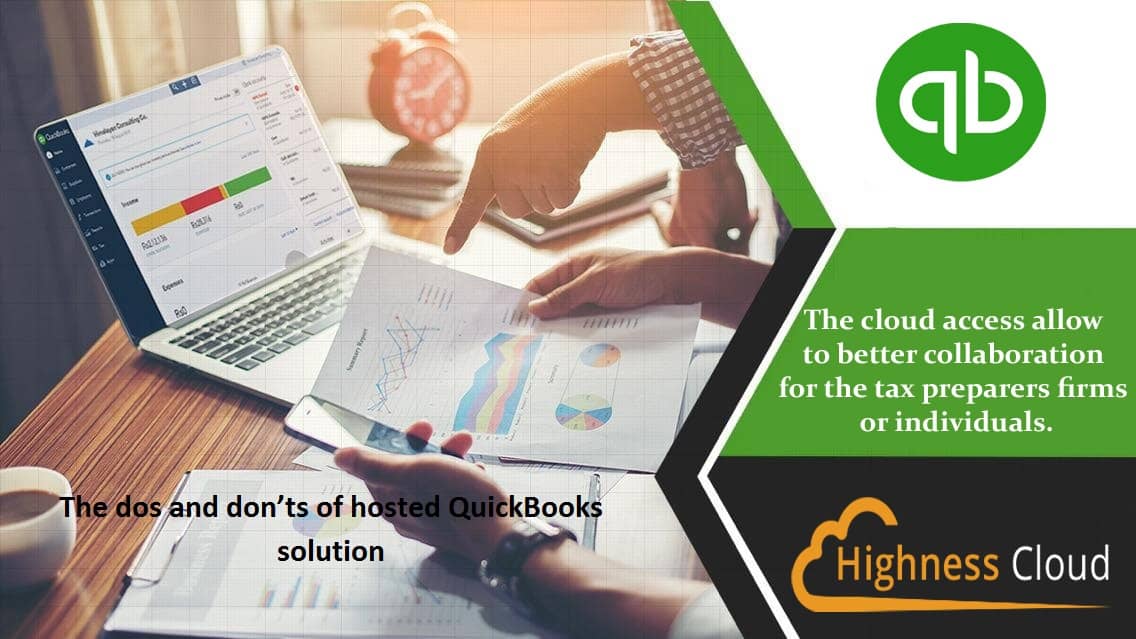 Cloud accounting has now become a paramount solution for every business and professional and that's because of its long list of benefits offered to the user and that too at such an economical price. Although the cloud solution is not new to the world, it took it a very long time and multiple stages of evolution to transform into a form in which it could enter the accounting industry.
When a user thinks of shifting to the fruitful cloud accounting solution from his old and dull accounting solution then the first option which comes in everyone's mind is QuickBooks hosting. The very fruitful accounting software was first introduced in the market with the motive of fulfilling the personal accounting needs but due to the ease of use of this accounting software and its advanced accounting features, soon it became a new normal for SMEs, accountants, CPAs and other accounting professional.
And with the advent of the cloud accounting solution, people shifted from installing the accounting software on their desktop to the hosted QuickBooks solution. Following are the benefits which the hosted QuickBooks user got after shifting
Anywhere, anytime accessibility
High uptime
World-class security
Automatic backup
Economical solution
Scalability
All these things made the users shift from installing QB on their desktop to the advantageous cloud accounting solution hosted QuickBooks. But in order to capitalize on the benefits of this high-tech solution, you need to have some basic understanding about it and that's why in this blog post we will be looking at some of the dos and don'ts of the hosted QuickBooks solution.
The dos with hosted QuickBooks solution
Use add-ons
If you want to maximize the productivity of your hosted QuickBooks solution then the best way to do so is by using add-ons. Add-ons are simply third-party software solutions which can be easily integrated with the QB solution. If you are using QB on the cloud then also you don't need to worry as the cloud platform is also compatible with the add-ons and you can easily integrate your chosen add-on with the QB on cloud. These add-ons can fulfill your specific accounting needs which vary a lot from industry to industry and sometimes QB alone can't fulfill all those requirements.
Make use of the multi-user access
The multi-user feature of the hosted QuickBooks is a big advantage and you should never miss out on using this amazing and unique quality. Many people think that they will have to compromise on the security if they will start using the multi-user access in which they will give access to different users but that is not the case as you will have full control over the data even after giving access of your books to multiple people sitting at different locations. The real-time access allows you to track your users sitting at different geographical locations in real-time, so any changes made by them can be viewed in real-time by the admin.
Use a good internet service
In the cloud accounting solution like hosted QuickBooks, everything is stored on the cloud and therefore, you need to have a good internet connection in order to access your files from the cloud. If you will have a slow internet connection then it will have a direct effect on the performance of your hosted QuickBooks solution and nobody wishes to have lags while using their accounting solution and especially if it is on the cloud. You don't need to have a lightning fast internet connection but it should be at least average.
The don'ts of hosted QuickBooks
Stuffing add-ons
Add-on integration is a very good way of fulfilling your specific accounting needs as per your industry but many people go on with adding useless add-ons to their hosted QuickBooks solution and that's not the way you should move forward. Although integrating add-ons with your cloud accounting solution won't hamper its performance but if you will stuff your accounting solution with too many add-ons then you might face some delay. So choose only those add-ons which are required and avoid stuffing them.
Not using the power of scalability
Even after proper analysis and research, you might end up with a wrong hosting provider and that's not an issue because even with a lot of experience of the cloud platform, individuals and businesses can make such mistakes. But the wrong thing here is to not use the power of scalability and stick with the wrong QuickBooks hosting provider. You should know that the cloud hosting services offered by the cloud providers are very scalable and that's why you can opt out of their services at any point of time.
Not limiting the other users
The multi-user feature of the hosted QuickBooks is a very great feature and most of the people using this cloud accounting solution make the best use of this fruitful feature but there are many people who complain about the loss of control while using the multi-user access. That's because they don't use the power of admin which allows them to restrict the different users from accessing certain areas of the hosted QuickBooks solution which the admin think contains highly sensitive information which shouldn't be accessed by any other user. By using this power, the admin can have full control on the cloud accounting solution and he can keep his data safe from all the possible threats.
Not inquiring much
If you are shifting from your old traditional method of cloud accounting solution then you should always inquire about everything which you need to know about the cloud accounting solution, the cloud services of the hosting provider, their price, etc. If you will not inquire much about their hosting services and the cloud accounting solution, then you might face bad surprises in the future.
If you are going to shift to the hosted QuickBooks solution or even using this solution from a long time, the dos and don'ts mentioned in this blog will allow you to use the cloud accounting solution at its full potential.