How to save expense and effort with QuickBooks hosting?
HC
Created by HighnessCloud
Saturday, June 1, 2019
25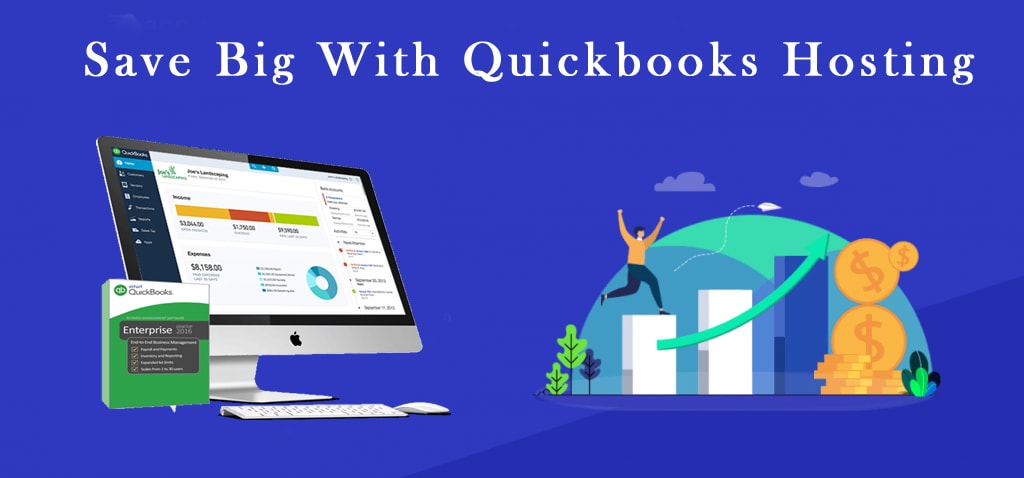 QuickBooks is surely a new-generation accounting software which helps its user with financial management and effortless accounting operations. The most popular accounting software comes in different versions and editions and that's why every size and type of business can choose its QB software accordingly.
When hosted on the cloud, the QuickBooks hosting solution starts delivering futuristic benefits which some years ago, was almost impossible to even imagine for accountants. But the future is now here and it comes in the form of QB on cloud.
In the case of CPAs and accountants, the remote accessibility acts as a viable option for performing accounting operations on the virtual platform. But when a person chooses the cloud solution, then he gets many additional benefits with it.
If a person is using the QB on desktop from a very long time, then he will get used to the cloud version of the software within no time as the interface of the QB desktop and QuickBooks hosting is similar. So if you are frightened of getting used to a new interface then you need to need to put such worries on the shelf and start working towards making the cloud solution an integral part of your organization.
In addition to making accounting accurate and quick, the QB on cloud also helps the user with cutting cost and minimizing the effort wasted in manual processes of accounting operations.
The expense saving factor of QuickBooks hosting
Here are some of the ways through which the QuickBooks hosting solution saves the expense of the user:-
No need of paper
If you are switching to the QuickBooks hosting solution then you will surely save a huge amount of money, which was earlier wasted on invoices, stamps, and other sorts of papers and files. This also helps you to become a contributor towards saving the environment.
The modern age demands paperless accounting and QB on the cloud gives you exactly the same thing.
No need of expert accountants
If you are worried about learning accounts or hiring an expert accountant for completing your accounting tasks, then QuickBooks hosting can help you in both the cases.
Hiring an expert accountant is not a practical solution for many small businesses and that is primarily because of the limited budget of the SMEs but if you are choosing the QuickBooks hosting solution, then you can save money on hiring an expert accountant as the software oncloud is quite user friendlyand you don't need to become an accounting expert for using it.
Even during the tax season, you don't have to roam around searching for tax experts as the QB on cloud is capable of filing taxes without the need of any expert.
No need of building your own infrastructure
When you think of moving on to the cloud, you are generally left with two options; in-house server and hosting solution. For small businesses, building own IT infrastructure is quite costly and they might find this solution as an enemy to their budget, but you can save this big amount of money invested in building your own infrastructure by choosing the QuickBooks hosting solution.
When you choose a hosting provider, then you host your accounting software on the cloud provider's server so it doesn't require any IT infrastructure at your own premise. This saves a big amount of money for small businesses while giving them access to all the benefits of the cloud which an in-house server can offer.
The effort-saving factor of QuickBooks hosting
Reduced manual workload
If you are searching for a way to reduce the manual workload involved in the accounting operations, then switching to QuickBooks hosting is the right option. The manual workload involved in the accounting operations doesn't only make your job boring, but it also increases the chances of errors as errors are a part of human nature.
When you use the QB on cloud, then most of your accounting operations get automated and upon further integration with other apps, you will no longer need to make entries, go through the cumbersome process of bank reconciliation and other repetitive stuffs.
Reduced individual workload
If you are using the QuickBooks software by installing it on your desktop, then even after having the most robust accounting team, your individual workload will never be reduced and you will never be able to work as a team. In the traditional accounting solution, you can't move forward with an accounting operation until and unless the previous person has completed his part.
But in the QuickBooks hosting solution, the individual workload is drastically reduced as you can collaborate with your accounting team and clients on real-time basis. This feature of the hosted QB is known as multi-user collaboration. There is no limit on the number of users and there is no effect on the performance of the QB on cloud due to multiple account login.
Reduced IT hassle
While handling over your accounting software to the cloud provider, you also offload all your IT issues to them. It is very much true that none of the accountants are IT experts and therefore it is better to leave some areas of your business solution in expert's hands only.
Along with the economical hosting solution, you also get the advantage of availing dedicated support which is available round the clock for solving your issues in the minimal time possible. There is no charge involved in this customer support service provided by the hosting provider and they offer this service through a dedicated team of IT experts who are very quick and precise in handling issues and queries.
The QuickBooks hosting solution has a huge user base in US and it is growing in other countries as well. With regular updates and security feature improvements, no has able to succeed the QB accounting software from almost a decade and it is being expected to go on with the same trend in the future as well.